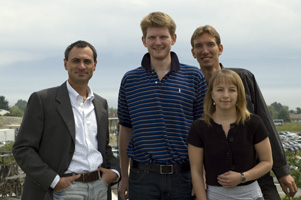 With 45 interviews with high profile people in robotics, nearly 200'000 downloads and a good insight on today's and tomorrow's robotics,here we are now with the final episode of Talking Robots dedicated to what the general public thinks about robots.
"Hey, do you have 2 minutes to talk about robots?"
Whether in Boston or in Lausanne, the result was the same: worn out shoes and a pocket recorder with no more memory. Four interviews were finally selected, between enthusiasm for the Roomba, skepticism toward intelligent robots and a bit of a gap between roboticists' and the public perception. Interviewees include an army recruitment sergeant of the US military, a science fiction writer, a Boston tour guide and finally an employee in a retirement home. While the interviews are not intended to represent the general opinion, they provide another source of information, next to the papers, scientists and the industry as to how robots will be affecting our future
In addition we speak with
Dario Floreano
, the initiator and director of the Talking Robots podcast and the director of the
Laboratory of Intelligent Systems
, at the
EPFL
in Switzerland. He concludes this series with a retrospective on these two past years and a note on the future.
Future which will include
Robots
, the podcast for news, interviews and discussions on all aspects of robotics. In addition to insights from high-profile professionals,
Robots
will take you for a ride through the world's research labs, robotics companies and their latest innovations. You can directly subscribe to the feed through iTunes or any other podcatcher by clicking on the following links:
Finally, a special thanks to all our listeners and interviewees which have made this podcast possible. Special thanks to
Dario Floreano
(left in picture) for initiating and directing Talking Robots. A round of applause for
Peter Dürr
(center) who has been doing all the magic behind the scene, with the recording, editing and jingles.
Markus Waibel
(right) has also been there from the start with the interviews and helping with getting the word out. And finally thanks to
Daniel Marbach
for the web design.
Hope to see you in
two weeks
.
Links: