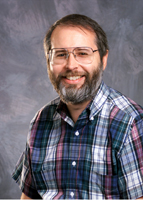 In today's episode we talk to
Tandy Trower
, a 26-year
Microsoft
veteran who is now the General Manager of the
Microsoft Robotics Group
. He's been involved in most MS products we know today, from BASIC and the Microsoft Flight Simulator to Microsoft Windows.
In this year's January edition of Scientific American, Bill Gates predicted a
"Robot in Every Home"
after having told Tandy Trower "to go on an extended fact-finding mission and to speak with people across the robotics community". As a result, Microsoft launched their "Robotics Studio" without losing a split second. With a team of only 12 people they've been developing the tools needed to program and simulate today's robotic platforms from the critical real-time interfaces, to the kinematics and high level-behaviors. It took less than two years to see the Microsoft Robotics Studio surface in events such as
Robocup
, the
Darpa urban challenge
,
the Sumo robot competition
and the
international autonomous underwater vehicle competition
.
Spurred on by the resemblance between the robotics community today and the one of PCs 30 years ago, the MS Robotics Studio has increased the pressure on
Player
,
Webots
,
Gostai
and
Evolution Robotics
- however, for now the jury on tomorrow's gold standard in robotics is still out.
To get an idea of what the Microsoft robotics studio is all about, here are a couple of it's main ingredients:
In this interview, Tandy Trower tells us why Microsoft is interested in robotics, if we'll ever see anything close to open source and if we are really going towards a robot in every home.
Links: