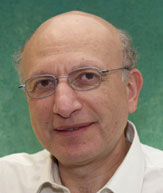 In this episode we interview Raja Chatila on the state of the art in robot navigation, on how to marry traditional Simultaneous Localization And Mapping (SLAM) with bio-inspired, reactive approaches, and on why your living room is more complex to navigate than an extraterrestrial planet.
Dr. Chatila is a professor at the Laboratoire d'Analyse et d'Architecture des Systemes (LAAS) in Toulouse, France, which is part of the Centre National de la Recherche Scientific (CNRS). He is very well known for robot control and navigation, and has designed robots that walk, drive and fly in outdoor environments, on factory floors, inside the home, and on extra-terrestrial planets.
His research interests include robot understanding of space, objects and situations, robot decision making, and robot learning and interaction. He is currently working on projects that involve assistant and companion robots (COGNIRON) and on planetary rovers (EDEN).
Links: