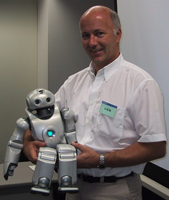 In this interview we talk to
Roland Siegwart
who is Full Professor at the
Autonomous Systems Lab
at the
ETH Zurich
.
Some of us roboticists concentrate on the high-level behavior of our robot. Others like to create, concentrating on the mechanical design of a crawling, walking or flying robot. Finally, how does the robot perceive its environment, what sensors and algorithms are needed to interpret the world? The fact is, to make an autonomous robot you need to encapsulate all these capabilities, similar to what has been done in the
18 robots
developed by Siegwart's lab.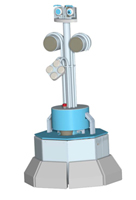 Starting from concrete problems, such as planet exploration, autonomous driving or guided tours of exhibitions, he builds robots from the function up (functional robotics). Embedded with specific capabilities, these robots have been seen to leave the lab to become products in
spin-offs
,
tour guides
at the
Swiss national exhibition
and soon
Mars explorers
.
In this interview, Siegwart shares his know-how on autonomous systems (see his
book
on the subject) and the research which is being done on robot
navigation/localization and mapping
.
Links: