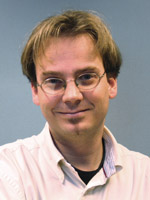 In this episode we interview Auke Ijspeert on his amphibious salamander robot. He explains how central pattern generators are a powerful tool to link simple high-level commands to complex patterns of locomotion including gait changes, and how they are used in his robot.
Auke Ijspeert is an assistant professor at the EPFL and head of the Biologically Inspired Robotics Group (BIRG). He is very well known for his work on central pattern generators and their use in robot control. His research interests are at the intersection between robotics, computational neuroscience, nonlinear dynamical systems, and machine learning. His goal is to study the neural mechanisms underlying movement control and learning in animals and to develop robots capable of agile locomotion in complex environments.
His current research projects span theoretical approaches to sensorimotor coordination, biological modeling of lamprey and salamander locomotion and robotic implementations in robot fish, snakes, salamanders and humanoids.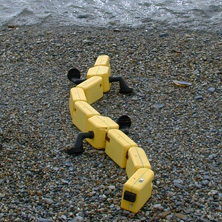 Links:
Further Links: