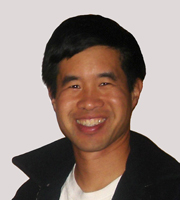 In this episode we interview Terry Fong, the leader of the Intelligent Robotics Group at the NASA Ames Research Center in California. He talks about his research in peer-to-peer human-robot interactions and teams including a seam-welding humanoid robot, an inspection space rover, a remote support crew and two astronauts.
Dr. Fong is well known for his work in human-robot interactions and for what is known as "collaborative control", allowing the human to serve as an information resource for robots. His main research interests are centered around human-machine interfaces including everything from PDAs to Virtual Reality, and with applications ranging from space exploration, remote driving, control of free-flying robots to surgeon computers. He is co-program chair for the upcoming Human-Robot Interaction conference March 2007 in Washington.
His current projects include the Peer-to-Peer Human-Robot Interaction (P2P-HRI) project, which as part of NASA's Exploration Systems Research and Technology program investigates how "peer-to-peer" interaction can enable real-time task coordination and collaboration between humans and robot "partners". He is also involved with the Global Connection project, which brings together Carnegie Mellon University, the NASA Ames Research Center, Google, and the National Geographic Society to provide rich multi-media content.
Links: