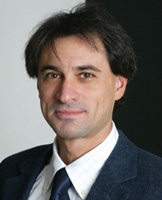 In this episode we talk to Dario Floreano about evolutionary robotics. From evolution to learning and from single robots to swarm systems, he presents how evolutionary robotics can be used to understand biological systems and design efficient control for robots.
Dario Floreano is a professor at the Ecole Polytechnique Fédérale de Lausanne (EPFL) in Lausanne, Switzerland and the head of the Laboratory of Intelligent Systems (LIS). He is well known for his pioneering role in the field of Evolutionary Robotics. He has made significant contributions to the fields of Artificial Neural Systems, Artificial Life, Evolutionary Computation, Swarm Robotics, and Biomimetic Electronics.
His goal is to understand and replicate the principles that allow living and artificial systems to self-organize, adapt, and remain operational in changing and unknown environments using a systemic approach that integrates hardware and software. His current projects include the areas of evolutionary robotics and electronics, bio-mimetic engineering, biology reverse engineering, and computational intelligence (evolutionary systems, neural networks, swarm intelligence).
Links: