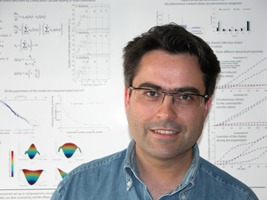 In this episode we talk to
José Halloy
who is researcher at the
Unit of Social Ecology
at the
Université Libre de Bruxelles
.
He presents the work done in the scope of the
LEURRE
project on the self-organization of hybrid groups of animals and artificial artifacts. Recently presented in one of the most renowned journals
"Science"
, Halloy describes how insect-like robots can influence a group of cockroaches into collectively selecting a light shelter instead of the dark one they usually crave. A splash of perfume and a good behavioral model is what it takes to interact with what Maeterlinck called the
"mind of the hive"
or in this case, the collective intelligence of the cockroach society.
On the verge of biology and engineering, the LEURRE project has brought together a
large number of researchers
across Europe. Now that the ice is broken between robots and animals, maybe we'll soon be seeing little chicks chirping after the metal chicken they call mom?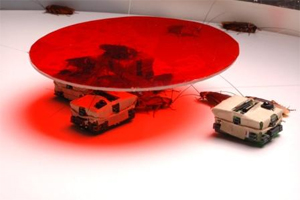 Among other topics, Halloy has published papers about the aggregation of social amoebas during their development from a molecular and cellular point of view; the role of molecular noise on biological rhythms robustness; the influence of hair life cycle on hair pattern formation for which he obtained a worldwide patent for L'Oréal.
Links: