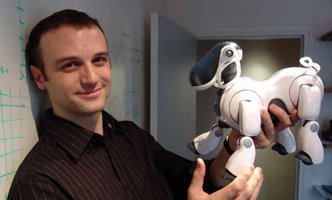 In this episode we interview
Frederic Kaplan
. After ten years of research at the
Sony Computer Science Laboratory
in Paris, he is now researcher at the
CRAFT
at the
EPFL
in Lausanne Switzerland where he supervises a new team focusing on interactive furniture and robotic objects.
Curiosity is usually seen as a quality in humans, a learning driver. When a 1 month old puppy looks frightened and hesitant before a bright yellow tennis ball and finally jumps on it, shakes it in his jaw, throws it away and runs after it again, then curiosity becomes entertaining. Curious robots, however, are only starting to surprise us with their child-like open-ended learning abilities and lovability. Kaplan's
curious AIBO
is for example capable of learning how to interact with the toys on its play mat, first learning the simple behaviors before getting bored and moving on to more appealing ones. You can find the latest paper on the subject
here
or watch the video below.
Obviously challenges arise when your curious AIBO masters all the objects in its environment and reaches boredom. Problem solved with the
new toys
rich in learning opportunities developed through the close interaction between designers at the
ECAL
in Lausanne and Kaplan's team.
Rich of this collaboration with the artistic world, Kaplan and designer
Martino d'Esposito
have now created a robotic computer named the
wizkid
capable of interacting with people in its environment in a natural keyboard-free and mouse-free manner (see video below). Currently presented at the
Museum of Modern Art
(MoMA) in New-York, the wizkid has been playing around with the public, curious to know who it is interacting with. While this robot's debut was in the artistic spot light, its real application is thought to be in our everyday homes where it will take care of playing music, videos and of course entertaining us.
Finally, Kaplan has also recently been working on
interactive furniture
such as the
reflect
table which can visually pin-point the person who is monopolizing the conversation.
Links: