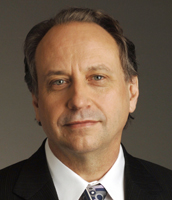 In this episode we interview Rodney Brooks on behavior based robotics. He talks about how mosquitoes in Thailand caused a fundamental shift in artificial intelligence, how to build robots that sell, and how 50 years from now you'll be fighting with your robot for spare parts.
Rodney Brooks is Director of MIT's Computer Science & Artificial Intelligence Laboratory (CSAIL) and Panasonic Professor of Robotics. He is also Chief Technical Officer of iRobot Corp (nasdaq: IRBT), which is producing the extremely successful Roomba vacuum cleaner robots, the well known PackBot military robots and, most recently, the Verro pool cleaning robots.
Rod Brook's work has been very influential and led to a fundamental shift in research in artificial intelligence. He has argued strongly against symbolic processing approaches to creating intelligent machines and instead stressed the importance of interactions with the physical world. He has published papers and books in many different fields, ranging from computer vision to planetary exploration and compiler design. He has also starred as himself in the Errol Morris movie "Fast, Cheap and Out of Control", named for one of his scientific papers.
His current projects include work on a number of humanoid robots, including the anthropomorphic Cog and the highly mobile humanoid Coco.
Links: