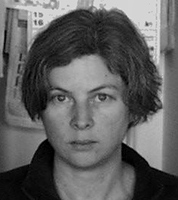 In this episode Barbara Webb presents her cricket robot, explains why it is sometimes easier to build a robot than a computer model, and speculates on the future of animal-robot hybrids.
Dr. Webb is a reader at the University of Edinburgh and the head of the Cricket Lab. She is a pioneer in the new research area of Biorobotics, studying how to make robots that emulate or simulate biological organisms computationally and physically. She has co-edited the first book on the topic together with Thomas Consi and she is the author of numerous articles that show how a robot can serve as a tool for biologists.
Her main research interests are perceptual systems for the control of behavior as well as the theoretical issues concerning measurement, modeling and simulation of biological systems.
In her recent work she has developed and tested a robot model of the auditory localization behaviour of the cricket. Currently she is working on a cricket robot to study the sensor-motor interactions that give rise to basic behaviours.
Links:
Other projects mentioned: