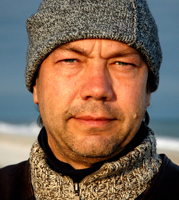 In this episode we interview Luc Steels, about language evolution, the cognitive and genetic basis for language, and the importance of embodiment and robot experiments for understanding communication.
Dr. Steels is a professor of Artificial Intelligence at the University of Brussels (VUB) and director of the Sony Computer Science Laboratory in Paris. He is one of the pioneers of AI in Europe, having made contributions in the domain of knowledge-based systems, behavior-based robotics, and most recently language evolution.
His current work centers on understanding what mechanisms and interaction patterns autonomous embodied agents need in order to bootstrap and self-organize communication systems that have properties similar to human natural languages.
Links:
Further links: