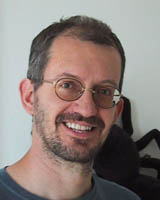 In this episode Marco Dorigo discusses his research in swarm robotics and swarm intelligence, and gives his views on the goals that should be targeted in these young disciplines as well as the challenges that researchers in these fields will face.
Marco Dorigo is a research director for the Belgian Fund for Scientific Research and leads a team of more than twenty researchers at IRIDIA, the artificial intelligence lab of the Universite Libre de Bruxelles (ULB). He is one of the founders of swarm robotics and the inventor of the ant colony optimization metaheuristic. For his contributions to artificial intelligence he has received a number of prizes, including the Marie Curie Excellence Award by the European Commission in 2003, and the Dr A. De Leeuw-Damry-Bourlart Award in Applied Sciences by the Belgian Fund for Scientific Research in 2005. He his the editor-in-chief of the new journal Swarm Intelligence.
His research focus is on the study of swarms of embodied and virtual artifacts. His interests range from theoretical analysis of swarm based optimization algorithms to experimental work with swarms of robots. He coordinated the Swarm-bots project and is now coordinating the Swarmanoid project.
Links:
Further links: