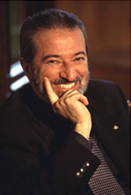 In this interview we talk to
Gianmarco Veruggio
who founded the association
Scuola di Robotica
in Genova (Italy) to study the complex relationship between Robotics and Society. This led him to coin the term and propose the concept of
Roboethics
, or the field of Ethics applied to robotics (
Wikipedia
).
He's since then been touring the world to raise awareness of governments and scientists over the important questions which need to be addressed to allow for a smooth "robot invasion" into our lives. Topics such as the use of robots in our everyday environments, the lethality and benefits of medical robots or military robots, augmented humans and robots as human-like artifacts are finally being discussed thanks to Veruggio's efforts in chairing international conferences and workshops including the
First International Symposium on Roboethics
(2004), the
EURON Roboethics Atelier
(2006), the
IEEE ICRA07 Workshop on Roboethics
and the
ECAP07 Workshop on the Philisophy and Ethics of Robotics
.
Next steps include the implementation of limits, laws, roadmaps and recommendations guaranteeing the peaceful cohabitation of humans and robots. While
Asimov
already had his
three laws of robotics
back in 1942, governments are only just starting to get interested with examples such as the
Draft Guidelines to Secure the Safe Performance of Next Generation Robots (Japan)
, South Korea's
Robo Ethics Charter
and
EURON's Roboethics Roadmap
. And in the end, who should we be protecting, the robots or the humans?
If you feel like you need more brain food, don't miss the upcoming 52min documentary entitled "
Ciao Robot
" or "Hello Robot" (English version) interviewing high profile scientists on the ethical aspects of their research (trailer below).
Gianmarco Veruggio's interests also encompass robot mission control, real-time human-machine interfaces, control system architectures for tele-robotics and Internet Robotics. His approach is the development of working prototypes to be exploited in a Virtual Lab environment. In 2007 he joined the
CNR-IEIIT
as a Senior Research Scientist.
Links: