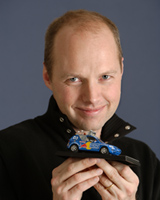 In this episode we interview
Sebastian Thrun
who is the director of the
Stanford AI Lab
(SAIL) in California. He tells us how he won the 2005
DARPA Grand Challenge
along with the
Stanford Racing Team
and Stanley the robot car. 7 hours is all Stanley needed to find its way through 215km of California's Mohave Desert thanks to its secret ingredient:
probabilistic robotics
.
Sebastian Thrun is widely acknowledged as a pioneer in the area of probabilistic robotics, which is concerned with perception and control in the face of uncertainty. It's all about computing the odds based on what you know and what you learn along the way.
He presents a world where cars zigzag safely through traffic on their own, bringing children, elderly people and workers to their destination. As a first step towards fully autonomous cars in urban environments, don't miss the upcoming
2007 DARPA Urban Challenge
.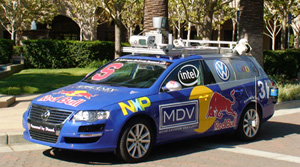 Sebastian Thrun's research focus includes AI, robotics, machine learning, distributed systems, human robot interaction, and programming language design. In the area of probabilistic robotics, he has focused on mobile robot exploration, mapping, and multi-robot coordination. He is the author of seven books and nearly 300 papers.
Links: