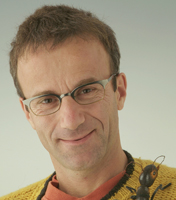 In this episode we interview the biologist Laurent Keller on his experience with robots, on the advantages of using robots rather than theoretical models and computer simulations, and on whether we should build artificial animals.
Laurent Keller is a professor of Evolutionary Ecology and head of the Department of Ecology and Evolution at the University of Lausanne, Switzerland. He is a leading expert on the evolution of social insects and has published more than 160 articles in peer-reviewed journals on topics including aging, genomics, kin recognition, sex ratios, cooperation, altruism, and communication. During the last six years he has explored the use of robots as a tool for biological research in a collaboration with the Laboratory of Intelligent systems at the EPFL.
His goal is to understand the principles governing the evolution of animal societies and the ecological and evolutionary consequences of social life. To study these questions he combines the disciplines of animal behavior, ecology, evolutionary genetics and genomics as well as robotics.
Links: