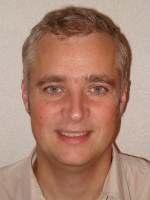 In this interview we talk to Olivier Michel, the founder of Cyberbotics Ltd., a company specialized in robot simulation, about his business experience, the market for robot simulation, software patents and on how robotics can help us to keep factories in Europe.
Dr. Olivier Michel is the founder and CEO of Cyberbotics Ltd. Since 1998 he has been working in his company to develop the Webots mobile robotics simulation software. Webots is now used in more than 350 universities and corporate research centers worldwide. Used for research and education, this unique software allows users to perform fast prototyping, programming, simulation, and transfer to real mobile robots.
Cyberbotics has been involved in a number of projects with private companies (e.g., with Sony Corp.) as well as academic research (e.g., with the ICEA European research project). From the beginning, Cyberbotics has been organizing several simulated robot programming contests on the Internet (ALife contest, Roboka contest) based on a free version of Webots where about 50 teams worldwide were competing on different robot programming scenarios.
Links: