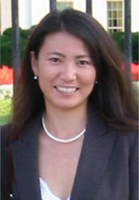 In this episode of Talking Robots we speak with
Yoky Matsuoka
who is the director of the
Neurobotics Laboratory
at the
University of Washington
in Seattle, USA.
Boosted by her nomination as
MacArthur Fellow
she has been recognized as a leader in the emerging field of
neurobotics
.
With her team, she's been focusing on understanding how the central nervous system coordinates musculoskeletal action and how robotic technology can enhance the mobility of people with manipulation disabilities. Closely mimicking the neuromusculoskeletal aspects of the anatomy of the human hand, her
Anatomically Correct Testbed hand
(ACT) provides a robotic platform which can eventually be used as a prosthetic device or an experimentation platform for neuro- and plastic-surgeons investigating the secrets of dexterous manipulation (video below). Applications also include teleoperating a robotic hand in space operations, or maybe just shaking hands with a colleague on the other side of the world (as proposed by
Cynthia Breazeal
). To have the ACT hand actually act like a real one, signals emitted by the human muscles or brain are rewired to the robot and control its movements, in a natural manner.
Similar signals can also be used to control a
hand exoskeleton
for upper spinal cord patients suffering from a loss of precise control in the upper limbs and hands, and has even allowed a disabled student to eat... a twinkie. While most of today's neurobotics projects yet strive to come out of the lab, they hold a life-changing potential for those suffering from strokes and reduced mobility. Yoky Matsuoka also discusses the need for "rules" on how these technologies should be used in the future (see
Sarcos's Military Exoskeleton
).
Finally, the Neurobotics Lab is also involved in the use of virtual environments and visual feedback to
improve recovering stroke patients' perceptions
of tasks they perform during therapy.
Links: