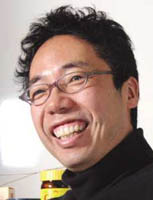 In this episode we interview Jun Tani, who is a team leader at the RIKEN Brain Science Institute, about his research in robot cognition and robot consciousness, meta-level cognition, and on his interest in building schizophrenic robots.
Jun Tani has studied robot learning using theoretical models of complex adaptive systems and neural networks for more than 15 years. He has worked for the Sony Computer Science Lab and has been a visiting associate professor at the University of Tokyo from 1997 to 2002. Since 2000, Jun Tani has been leading the Laboratory for Behavior and Dynamic Cognition, at the Brain Science Institute, at RIKEN close to Tokyo. He is well known for his research in robot cognition and robot consciousness.
His research interests include phenomenological problems of self-consciousness and embodied cognition. Six years ago, he started neuroscience studies on behavior learning processes in real brains, utilizing both, human brain imaging and animal electrophysiology. His vision is to establish a new research field, brain-inspired robotics, by integrating these approaches.
Links: