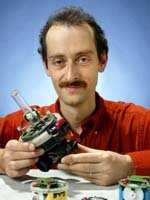 In this episode we interview Francesco Mondada on his experience with starting a business in research robotics, on the potential of robots for creating bridges between disciplines and on nature as an inspiration and challenge for robotics.
Francesco Mondada is a researcher at the LSRO at the Ecole Polytechnique Fédérale de Lausanne (EPFL) in Lausanne, Switzerland. He is the designer of the Khepera robot, which at its introduction in 1995 set a new standard for research and educational robots. The small, simple and very versatile Khepera robot opened robotics to non-experts and allowed a broad scientific community to move beyond simulations towards embodiment. Khepera robots have been sold to over 1000 universities and research institutions around the world. Dr. Mondada co-founded K-Team, a private company dedicated to the distribution of the Khepera robot and other research robots, and acted as its president and director from 1995-2000.
Dr. Mondada has played a pioneering role in exploring mechanisms of neural networks based learning, collective systems and artificial evolution in mobile robotics, including work on the first example of artificial evolution in hardware.
His more recent projects include work on the European Swarm-bots project, which studies new approaches to the design and implementation of self-organizing and self-assembling artifacts, and the project LEURRE, studying mixed societies of animals and robots. Currently, Mondada is working on the E-Puck, a small and powerful robot for education and research.
Links: