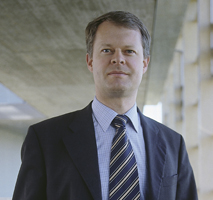 In this episode we talk to
Martin Hägele
, who is the head of the Robot Systems Department at the
Fraunhofer Institute for Manufacturing Engineering and Automation IPA
in Stuttgart, Germany. He presents the current landscape and trends in the European robotics market.
In 1993, inspired by the book
Robots in Service
, he led a study on the market potentials and challenges of service robots. He was the project lead and supervisor of numerous service robot developments including a fuel-refilling robot resulting in a fully operational gas station and several generations of mobile robots developed for museums, shopping centers and home applications (
Care-o-bot
). Hägele coordinated numerous publicly-funded research projects to develop robot technologies for industrial and service applications. He is currently leader of a large-scale European initiative for the creation of a new family of Small and Medium-sized Enterprise
(SME)-suitable robots
. He is also active in the International Federation of Robotics (
IFR
), in the European Robotics Network (
EURON
), and the European Robotics Platform (
EUROP
).
For more facts and figures, check out the the annual yearbook/statistical framework on industrial and service robots, the
WORLD ROBOTICS 2006
:
- Total world-wide sales of industrial robots in 2005: 126,700 units, up 30% on 2004; in Europe: ~30.000 (down 2% on 2004)
- World total stock of operational industrial robots: 923,000 units, 9% greater than 2004; in Europe: ~300.000 (7% up from 2004)
- In Europe some 60% of the robot installations are concentrated on the automotive industry.
Links: