kevobot -- a Khepera simulator for Webots with kevopic functionalities
---
| back to framework main page |
---
What is kevobot?

The kevobot (Khepera-kevopic simulator for Webots) package contains the so-called controller written in C and the world (physical description of the robot and its environment in VRML) for Webots. The controller is responsible for enabling and retrieving sensor values from Webots, managing the simulation by ordering simulation steps, and providing a TCP/IP server for goevo (see the screenshot below), thus replacing a real Khepera (equipped or not with kevopic). Webots 4 by Cyberbotics is a versatile 3D mobile robot simulator with an integrated physics engine. The simulator is compatible -among others- with Windows and Linux.

In the current version, kevobot is Khepera compatible in the sense it provides full access to IR sensors, wheel encoders, motor control. Moreover, it possible to enable either a K213 turret or a kevopic with a TSL3301 to obtain 1D visual input.

Note: in order to compile and run kevobot, it is mandatory to have Webots 4 installed on your computer.
License
The software is released under the GNU Public License. The authors of any publication arising from research using this software are asked to add the following reference: kevobot; http://lis.epfl.ch/resources/evo/kevobot.php; Laboratory of Intelligent Systems, EPFL, Lausanne.
Download
Version 1.1 (21.10.03):
Webots controller source file (/controllers/goevo/goevo.c), world file (/worlds/goevo.wbt) and textures: kevobot-1.1.zip (16.1kB)
Support
The developers do not provide any support for the application.
Developers
Jean-Christophe Zufferey
Mathieu Scherz
Tiphaine Martin
Contact
---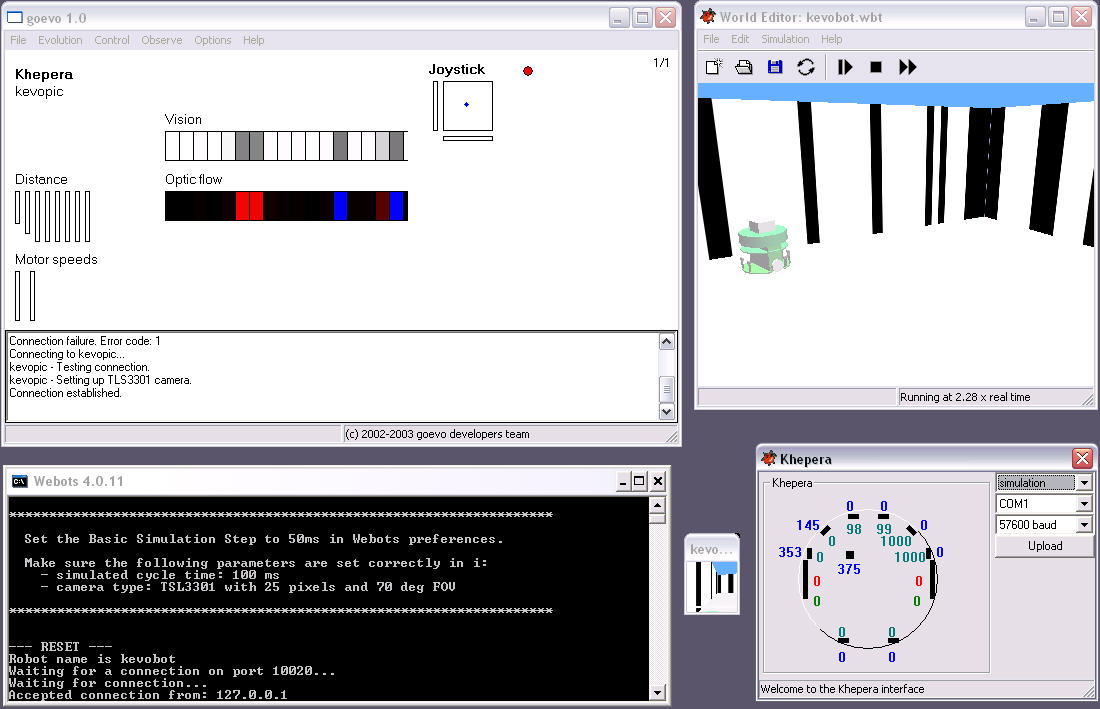 ---
| back to framework main page |
---
Published: 10.10.03/jcz Last update: 21.10.03/jcz