Methods
This project investigated the role of relatedness and levels of selection on evolution of cooperation and labour division in ant colonies. Experiments were carried out in simulation and on groups of real Alice micro-robots on four test cases, (1) heterogeneous colonies with individual level selection, (2) heterogeneous colonies with colony level selection, (3) homogeneous colonies with individual level selection and (4) homogeneous colonies with colony level selection.

During the first stage of experiments, we implemented and used a very fast probabilistic simulator to conduct an initial analysis of these four cases. In this simulation, decisions were not based on individual controllers, but instead on a probabilistic model. Probabilities were estimated in test runs with the real robotic setup. The advantage of such an approach is its simplicity and speed, allowing for a fast evaluation of the parameter ranges and yielding a very complete picture of the space of possible solutions. Part of these results were published in Perez-Uribe et al., 2003 (see link at bottom of page).

In the second stage, we have finished the implementation of a physics-based, 2D simulator (available online here). Work on the simulator was conducted in cooperation with the ECAgents project.
As opposed to the probabilistic simulator, decision making was based on individual controllers, which allowed a transfer of behavior evolved in simulation to the real Alice micro-robots. Direct evolution of the desired behaviors on real robots is far too time consuming for tasks with a high number of parameters. Benchmarks of our simulator at the start of this project showed that its simulation speed compared very favorably to commercially available alternatives less adapted to the specific needs of our project.

Work on the real robotic setup was carried out in parallel to the simulations. A video of the simulation and the results of a transfer to hardware can be seen at the right.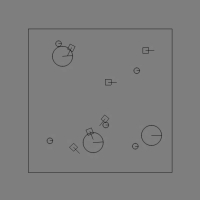 Sim1.avi (17.8 MB)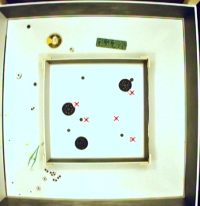 Real1.avi (6.1 MB)