The conditions for the emergence of communication were explored in experiments where two parameters were monitored for their influence on the emergence of communication (see Fig. 1, left):
1. Genetic relatedness within a group of robots (homogeneous, r=1, vs. heterogeneous, r=0, colonies)
2. Level of evolutionary selection (individual or group)

Our results show that honest communication evolves in three of the four tested conditions, thereby increasing fitness compared to a baseline experiment, where no blue light was allowed (see Fig. 1, right). The robots evolved two different stable communication strategies, which were not equally efficient: In the first, they signalled when by the food, whereby receivers evolved an attraction to blue light (Fig. 2, left). In the second strategy, less efficient strategy, signallers emitted light by the poison, while receivers were repelled by blue light (Fig. 2, right). This shows that evolved communication systems need not be optimal in order to be stable.

When agents were unrelated and selected individually, we observed that communication reduced the fitness of the groups. Further investigation revealed that this was caused by the spread of deceptive communication. Due to the large amount of competition between individuals, it was in the signallers' best interest to reduce the fitness of receivers. This was done by signalling far from the food, given that individuals were attracted to blue light. One might expect that this would lead receivers to cease to be attracted to blue light. However, this does not occur. The receiving strategy is very stable, in conjunction with the deceptive signalling strategy.

Our hypothesis is that the stability of deceptive communication is due to a large amount of noise in the selection process. Receivers remain attracted to blue light because there are always some signallers in the population that signal by the food. Thus, there was always enough blue light by the food to make it worth following. These results are currently under investigation.

In conclusion, we show that in order for honest communication to evolve, either genetic relatedness or group-level selection is needed. Furthermore, we show that the use of realistic models can lead to dynamics (such as the stability of deceptive communication) that one would not observe in simplified mathematical or game-theoretical models.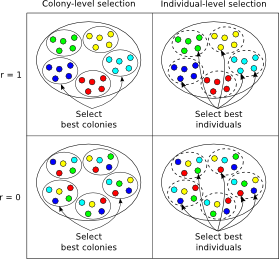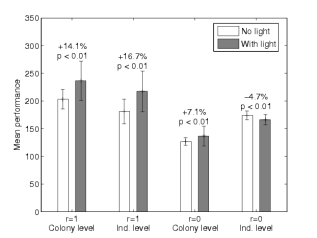 Fig. 1. Left: Four conditions tested in our experiments. Right: Comparison of mean performance with and without communication in the four cases.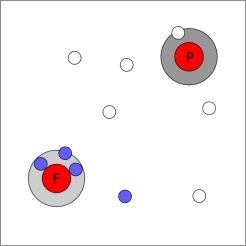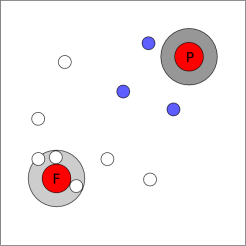 Fig. 2. Left: Evolved food signalling strategy. Right: Evolved poison signalling strategy.